SPRUCE UP YOUR TECH WITH FLORAL BEAUTY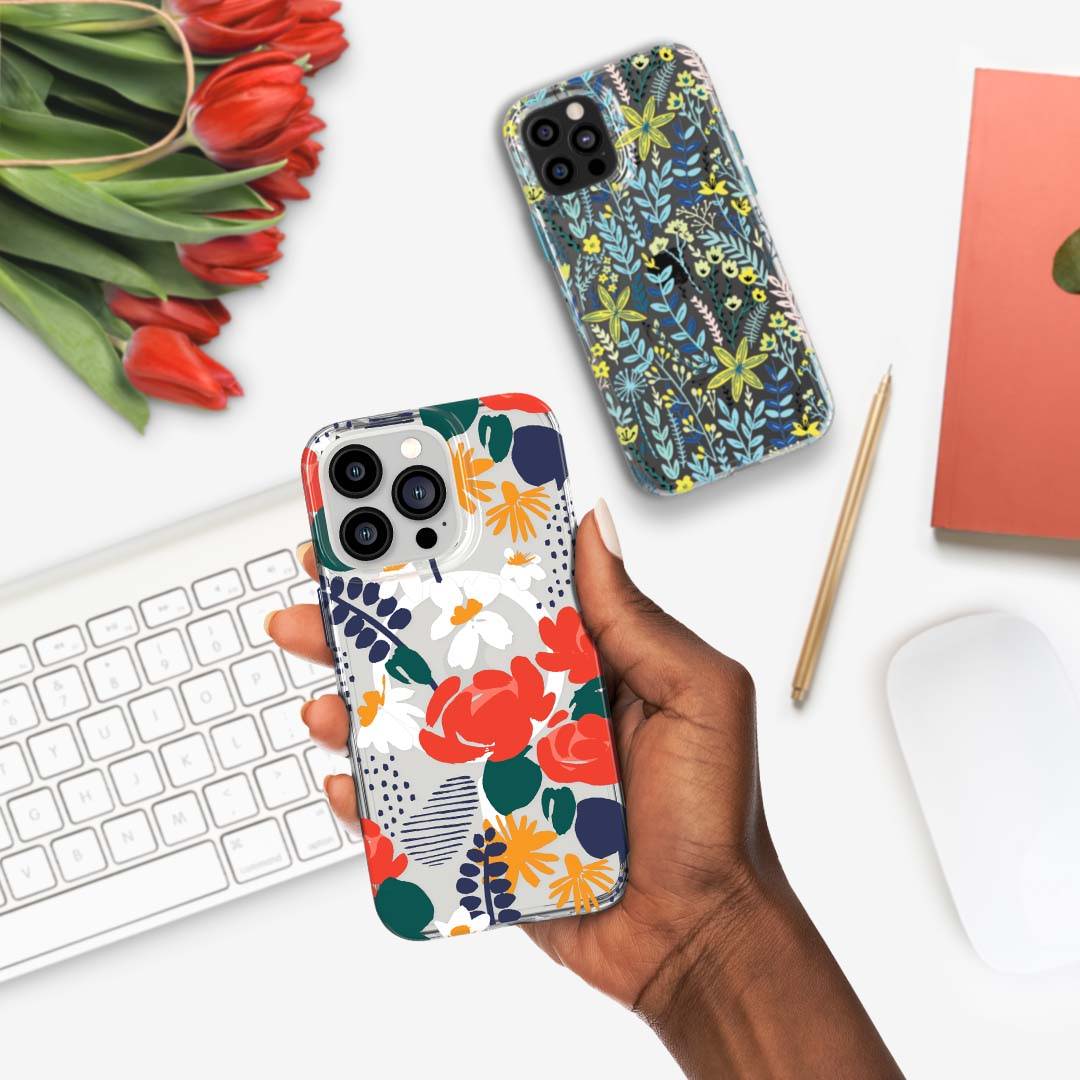 ---
Looking for a refresh of your tech? We have a selection of blooming beautiful floral cases to decorate and protect your phone in style. From our Botanical Garden design to the latest Floral Bouquet, these cases feature exclusive, hand-drawn artwork by our in-house creative team.
---
Very vibrant with contemporary shapes and movement expressed through leaves and flowers incorporated into the print, these head-turning Botanical Garden cases will appeal to anyone with a love of flowers and nature.
FOREST GREEN
Featuring an array of green leaves and foliage that offer a glimpse of your iPhone's original colour and design, this case reflects our close bond with nature. There are various shades of green on show and it's must for anyone who loves the outdoors.
TANGERINE ORANGE
Bright and bold flowers in a selection of cool colours adorn this beautiful case. From orange and yellow flowers to stems and leaves in shades of blue and green, there's so much in the exquisite and exclusive artwork to admire.
PALE BLUE
Lighter and brighter, the blue and yellow flowers on this case are more minimalist but just as gorgeous. While the design rightly turns heads, the 10ft multi-drop protection ensures your phone is safe from all kinds of damage.
CORAL RED
A tantalizing combination of red, blue and pink make the flowers on this case stand out from the crowd. Made with a scratch-resistant formula, this responsive case offers increased protection around every key pressure point – including the camera
The next evolution in our botanic range, the Floral Bouquet cases for iPhone 13 – with MagSafe magnets built into the case materials so you can always stay fully charged – are filled with warming and vintage colourways (oranges, yellows, greens) in expressive climbing arrangements that match the reds, pinks and purples more traditionally associated with flowers.
Green Leaf
With its striking, hand-drawn artwork of colourful foliage, this case is fully prepared for any impact. It's made with the smartest impact materials around to offer 12ft multi-drop protection and supreme scratch resistance.
Peach Tulip
Tulips typically bloom in spring and what better way to celebrate their arrival than with this stunning case? Featuring the flower in typically showy fashion, this is a case for anyone fascinated by these floral wonders.
Purple Anemone
Made with the smartest impact materials around, this case features exclusive patterns of anemone, a flower that belongs to the buttercup family in shades of red, pink and purple. This complements the increased camera protection.
Red Rose
Roses must surely rank as one of the most popular – and romantic – flowers around and we just know you're going to love this MagSafe-friendly case. With bold artwork and beautiful colours, it's fully prepared for everything life throws at it.