---
Apple launched the iPhone 13 to much fanfare at 2021's California Streaming Apple Event on 14th September, 2021. The latest progression of the device first launched by the late, great Steve Jobs back in 2007, iPhone 13 once again finds the tech giant pushing the boundaries when it comes to tech communications with the company's most advanced dual-camera system, extended battery life and a lightning-fast chip.
However, if you're not in a position to – or don't want to – spend out on the latest iPhone, there's still a lot to love about iPhone 12. These popular devices have fast processors, incredible cameras and everything you need to organise your life, thanks to the iOS operating system.
At Tech21, we believe great tech deserves the greatest protection – which is why our iPhone 13 cases and iPhone 12 cases are designed to keep every aspect of your phone safe from damage, no matter how many times you drop it.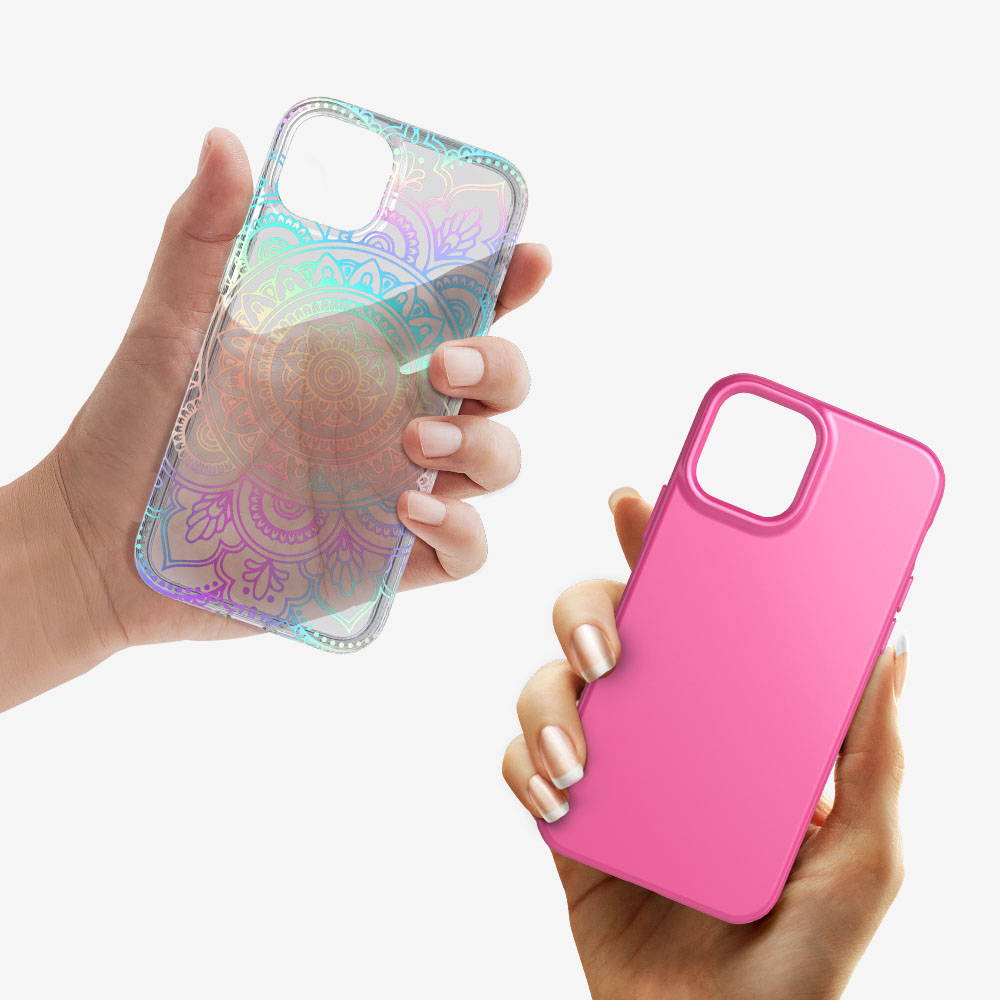 ---
What are the differences between iPhone 13 and iPhone 12?
How do iPhone 13 and iPhone 12 differ from each other? Below, we'll take a look at some of the specs of each device…
Colours
iPhone 13 Pro Max – Silver/Graphite/Gold/Sierra Blue
iPhone 12 Pro Max – Silver/Graphite/Gold/Pacific Blue
iPhone 13 Pro – Silver/Graphite/Gold/Sierra Blue
iPhone 12 Pro – Silver/Graphite/Gold/Pacific Blue
iPhone 13 – Starlight/Midnight/Blue/Pink/(Product) Red
iPhone 12 – Purple/Blue/Green/(Product) Red/White/Black
iPhone 13 mini – Starlight/Midnight/Blue/Pink/(Product) Red
iPhone 12 mini – Purple/Blue/Green/(Product) Red/White/Black
Screen Display
iPhone 13 Pro Max – 6.7" Super Retina XDR with ProMotion
iPhone 12 Pro Max – 6.7" Super Retina
iPhone 13 Pro – 6.1" Super Retina XDR with ProMotion
iPhone 12 Pro – 6.1" Super Retina XDR
iPhone 13 – 6.1" Super Retina XDR
iPhone 12 – 6.1" Super Retina XDR
iPhone 13 mini – 5.4" Super Retina XDR
iPhone 12 mini – 5.4" Super Retina XDR
Optical Zoom Range
iPhone 13 Pro Max – 6x
iPhone 12 Pro Max – 5x
iPhone 13 Pro – 6x
iPhone 12 Pro – 4x
iPhone 13 – 2x
iPhone 12 – 2x
iPhone 13 mini – 2x
iPhone 12 mini – 2x
Size and weight
iPhone 13 Pro Max – 160.8mm (height) x 78.1mm (width) x 7.65mm (depth)/238 grams
iPhone 12 Pro Max – 160.8mm (height) x 78.1mm (width) x 7.4mm (depth)/226 grams
iPhone 13 Pro – 146.7mm (height) x 71.5mm (width) x 7.65mm (depth)/203 grams
iPhone 12 Pro – 146.7mm (height) x 71.5mm (width) x 7.4mm (depth)/187 grams
iPhone 13 – 146.7mm (height) x 71.5mm (width) x 7.65 mm (depth)/173 grams
iPhone 12 – 146.7mm (height) x 71.5mm (width) x 7.44mm (depth)/162 grams
iPhone 13 mini – 131.5mm (height) x 64.2mm (width) x 7.65mm (depth)/140 grams
iPhone 12 mini – 131.5mm (height) x 64.2mm (width) x 7.4mm (depth)/133 grams
---