Every month, Tech21 will highlight one of our products as Case of the Month. We thought we'd add some shimmer and style to your May by taking a look at the beautiful and unique Evo Sparkle.
WHAT'S TO LOVE ABOUT EVO SPARKLE?
Add some extra sparkle to your tech with one of our clear and innovative cases – complete with an exclusive, shimmering design. Our radiant Evo Sparkle has iridescent dots that have a holographic effect, while the gold, rose gold and silver editions for iPhone 13 all have glittery additions. Designed to protect from everyday drops and accidents with extra levels of protection around the camera lens and key impact areas, Evo Sparkle is a must for anyone who takes pride in their tech.
HOW MUCH MULTI-DROP PROTECTION?

Designed to specially protect every key element of your device, our Evo Sparkle cases offer an impressive 12ft multi-drop protection. This means you can rest assured your expensive and essential tech is safe from everyday damage. They're also made with advanced anti-yellowing agents that keep the case looking clear and pristine for the lifetime of the device.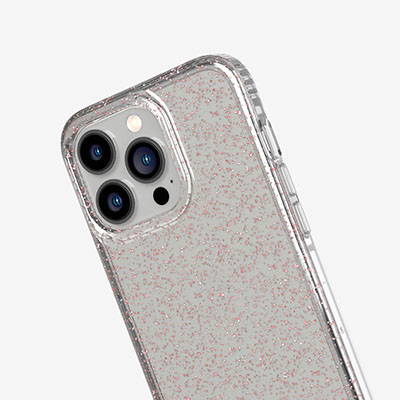 FEATURES THAT MAKE AN IMPACT
We design all our cases to complement Apple's designs and Evo Sparkle is no exception. It fits perfectly around all the curves and contours of the device and our iPhone 13 cases come in a selection of colours that complement the original design and colour of the device. Whether you want the iridescent original or gold, rose gold or silver glitter effects, we have you covered... What are you waiting for?